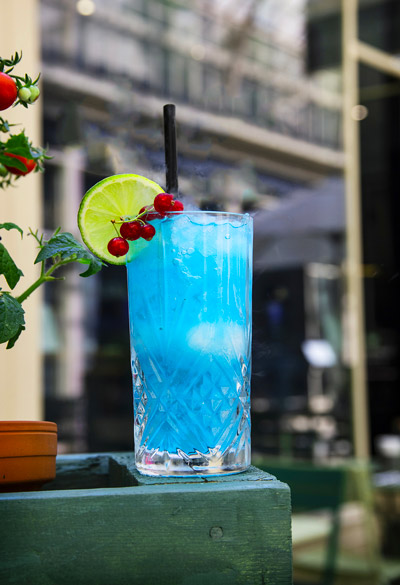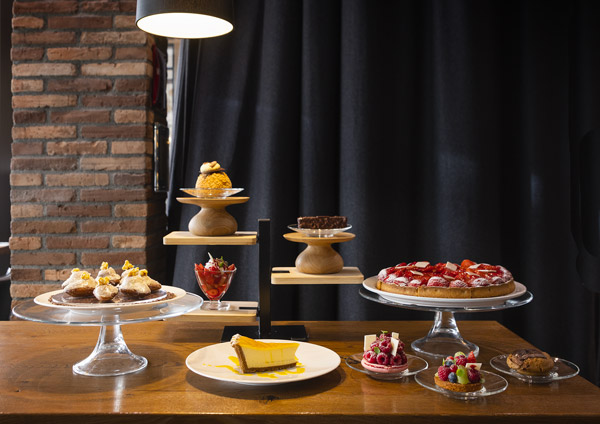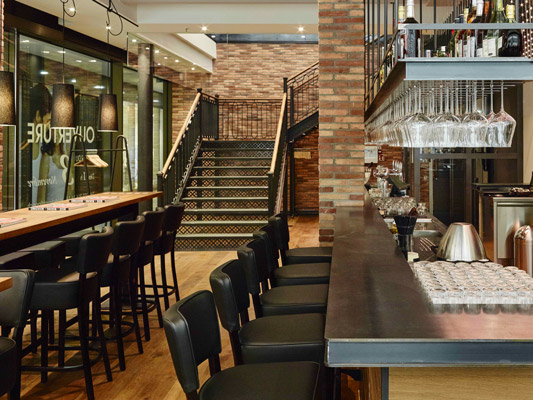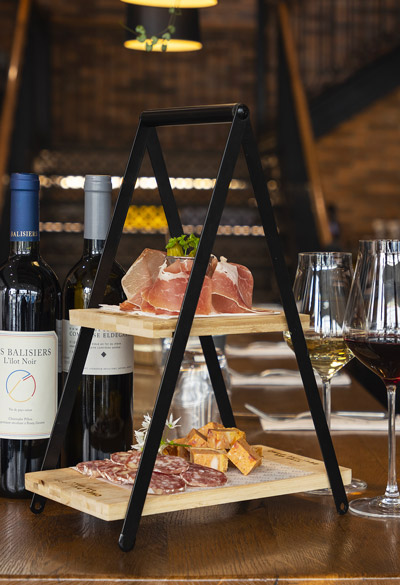 The "place to be"
The bar: A preferred place
The place to be, particularly at the afterwork hour, the Bar is a concentrate of energy and exchanges.
To take a drink, for lunch or dinner, rather in a hurry or taking your time, the bar accomodates to any of your inquiries.
At the counter, or at one of the little bistro tables, our catering service is there for you from 11am to 11pm, 7/7.
For gourmets, our pastry chef offers a large display of pastries to appreciate throughout the day, going along with our varied tea menu.
24.-
Daily Plate
Cod in a court-bouillon,
Stir-fried celeriac with hazelnuts
&
24.-
Daily Plate
Provençal-style beef sauté,
Skinny fries
&
24.-
Daily Plate
Salmon mousse, crispy toast and lobster sauce,
Lemongrass rice
&
24.-
Daily Plate
Grilled chicken breast with chimichurri sauce,
Spinach purée
&
24.-
Daily Plate
Scorpion fish a la plancha with diced pineapple and olive oil,
Steamed potatoes
&
Starters
---
Roasted rainbow beet salad with ginger
12.-
Bacon chicken Caesar salad
22.-
Classic New York shrimp cocktail
24.-
Steamed artichoke
« gribiche » vinaigrette
Poultry liver pâté with black trumpets mushrooms
16.-
Cajun spices roasted chicken rillettes
and pickles, toasted bread
16.-
« Provençal » roasted poultry meat pie
21.-
Dish only for lunch on weekdays
Soups
---
Maine lobster Whisky bisque soup topped
with whipped cream
22.00.-
"Beefheart tomato" gazpacho
18.-
Dish only for lunch on weekdays
Main courses
---
Bacon and cheese cheeseburger
« Denise's » sauce, French fries
22.-
Bacon and cheese double cheeseburger
« Denise's » sauce, French fries
30.-
Hand-minced beef tartare, French fries
200 Gr.
34.-
ONLY LUNCH DURING THE WEEK
Sirloin, chimichurri sauce
300 Gr.
38.-
"Teriyaki" glazed roasted black cod
rôti et laqué « Teriyaki »
32.-
Glazed pork ribs
bbq sauce
28.-
Plats uniquements servis de 11h45 à 15h et de 18h30 à 23h
SIDES
---
11H30 – 15H & 18H30 – 23H
Roasted carrot with ginger
7.-
Stir-fried green beans with shallots
10.-
Grilled whole corn with seasoning
10.-
Padrón peppers, mojo verde sauce
7.-
Baked potato with sour cream
7.-
Desserts
---
Ethel's sticky Toffee Pudding with warm butterscotch sauce
(servi chaud)
14.-
Madagascar vanilla crème brûlée
14.-
Vanilla, raspberry and with chocolate Empire State Building
2 pers.
38.-
Meringue yuzu and raspberry shortbread
14.-
Chocolate mousse, crème fraîche
2 pers.
24.-
Genève-New York – Valais strawberry eclair with vanilla and white chocolate
15.-
Flambéed crêpes Suzette, vanilla ice cream
2 pers.
38.-
Vanilla-apricot frozen vacherin
15.-
"Granny Smith" Big Apple with green Chartreuse emulsion
18.-
Vanilla ice cream profiteroles, hot chocolate sauce
14.-
Ice cream and sorbet
(Vanilla, caramel, coffee – Apricot, lime, raspberry, passionfruit, chocolate ) 1 scoop
5.-